Hi everyone,
Today's feature is going to be brief as Feature Friday has turned into Flu Friday at our house :(
I wanted to share with you the website
craftgossip.com
...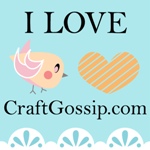 This is a site that has AMAZING ideas and links to tutorials for tons of crafts (sewing/knitting/glass/stamping/you name it!)... So, if you're crafty at all, you should definitely check it out... Also, if you like them on Facebook, they are running a contest right now - when they get to 10 000 fans, they will give away an Amazon Kindle 3G + Wireless, so if you like what you see, you might as well like them on FB too...
Thanks for reading!
If you are receiving this through email, please go to
umi designs
to visit the blog.